Curt Schilling: "There is no comparison to any sports sim I've ever played."
Posted 01-28-2014 at 07:18 PM by
BradC
---
"I was, quite honestly, born into the game," says Curt Schilling, who pitched for the Orioles, Astros, Phillies, Diamondbacks, and Red Sox during a 20-year career. "I was told my dad had a ball and glove in my crib when I came home from the hospital. I've lived and breathed it since I can remember. I grew up in Arizona so I could be on the field 365 days a year."
He continues: "When I wasn't on the field, I was doing something associated with the game. I first found APBA football but baseball came soon after. I loved being able to 'run' a team and a league. I had notebooks with reams of stats; I kept everything by hand."
Schilling remained an avid gamer throughout his playing days, which ended on March 23, 2009 after accumulating 3,116 strikeouts with a 216-146 record and a 3.46 ERA. He's not sure when or how he became an OOTPer, but he says he's "always been a HUGE sim fan, and played about everything there's ever been a game for in football and baseball. I played all the Front Page Sports stuff and just loved the ability to 'GM' a franchise."
Curt Schilling throws a pitch for the Boston Red Sox
When it came to playing games based on his favorite sport, he says he held the bar high: "I was always very nervous and eventually turned off by baseball games due to the horrid AI and bad statistical modeling. It's the main reason I don't usually play historical baseball things. I know the players and I know their stats, so when Maris hits 14 HR in a season, or Brett hits .236, it's ruined for me. So I turned to fictional, and when I found OOTP I knew I'd found the one game whose creators truly loved the game like I did."
Schilling continues: "OOTP is a modern day version of APBA, but better. Honestly, there is no comparison to any sports sim I've ever played, in any format. The depth to which you can dive, or not, is built to cater to the casual or the hardest of hardcore, with no reason to ever touch another game for either."
So how does OOTP compare to his experiences playing the sport for real? "It doesn't," he replies. "When someone walks into my office and yells 'Schilling, you blow!!!' with a Yankee hat on, due to a fictional league pitching change, then maybe it'll compare." He laughs at the thought.
While he's always had deep appreciation for baseball's rich history, Schilling prefers to play OOTP with fictional leagues, particularly his long-running Chicago Iron Pigs franchise, which he has extensively written about on the forum. Asked why that's his preference, he responds: "If John Homer hits 64 homers in my fictional season, then there's potentially a reason it happened in the game: parks, pitching, hot streak, whatever. When Josh Hamilton hits 77, that's a game with a bad engine, bad AI and poor modeling to me because I played for real and the real guys do things in my mind I know they can't do. It ruins the fun for me."
In addition to his regular season achievements, Schilling posted an 11-2 record and a 2.23 ERA en route to three World Series championships. He's also well-known for "the bloody sock," which resulted from pitching on an injured ankle during the 2004 ALCS and World Series for the Red Sox. The bloody sock he wore while earning a win in Game 2 of the 2004 World Series is currently on display in the Hall of Fame.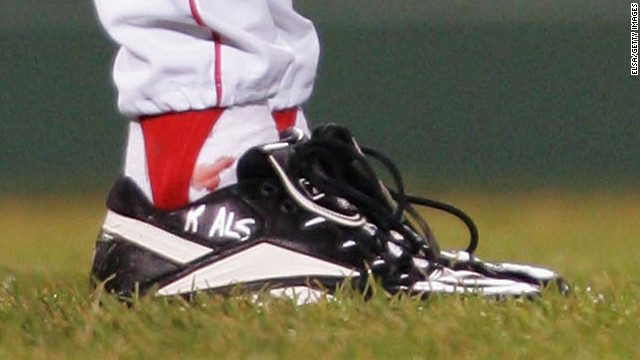 Curt Schilling's bloody sock
As of this writing, Schilling is waiting to see if he will join that sock and take his place among the sport's other greats. In 2013, his first year of eligibility on the ballot, he received 38.8% of the vote. Many players, most recently Bert Blyleven, spent several years on the ballot before finally earning their spot in the Hall, so Schilling will have to wait and see if his voting percentage rises in subsequent years.
Curt Schilling on the set of Baseball Tonight, where he's an analyst
OOTP wishes Curt Schilling the best of luck on future Hall of Fame ballots.
Comments