The Boston Red Sox are in need of a GM if you are interested apply at the website or via a PM here...
X Factor Baseball League started as a Historical League (with the CBA, and other variables in place, thus the X Factor) in the 1970 Season (April of 2017). The league is setup so that GM's control rules, expansion, DH, bla bla bla via votes each off-season. We have basically stuck to most main historical aspects of the league.
X Factor Baseball League just finished expansion and is starting its eighth season (1977) and has a great core of active GMs... Opening Day is on Tuesday February 5th so it is a great time to jump in. The Red Sox are the reigning XFBL Champs, and have become available due to some RL issues of the previous GM.
We utilize Slack as our primary communications vehicle and a forum for posting trades and other pertinent information...
Our Website is
HERE
... You can find the
Rules
,
Reports
,
Forums
, StatsPlus, Schedules etc at the Website or via "?Links" commands within Slack.
We use all StatsPlus
(SITE HERE)
features Drafting, Voting, Export Tracking etc....
Currently the 1977 Amateur Draft is under way
(SEE HERE)
We LIVE SIM Monday, Wednesday and Friday at 0800 EST (7-day LIVE SIMs)... and in the off-season we run SIMs every day except Sundays...
(Schedule Here)...

Come join us as the Red Sox GM and Manage such players within the organization as: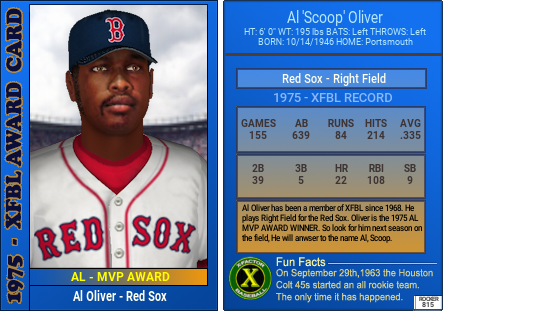 .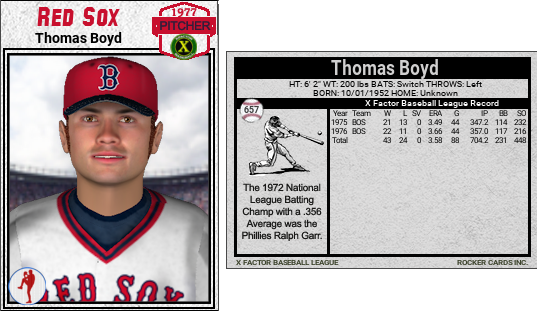 .
.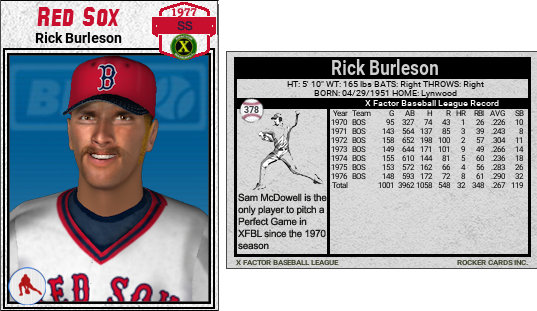 .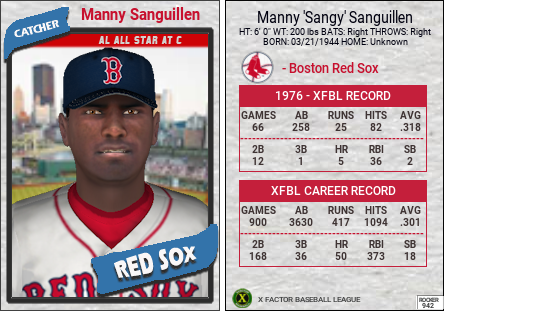 .
__________________
Commissioner - GM - S.F. Giants -
XFBL
Commissioner - GM - Huntington Station Ramrods -
MTBA
GM - Fargo Rage - United Baseball Association
GM - Birmingham Bulls - Heroes Reborn League
GM - Los Angeles Agents - Field of Dreams
GM - Varadero Exiles - World Baseball League
GM - San Diego Padres - Historical Simulation Baseball League