The Brewers last series leading up to the All-Star break is against the always dangerous, but lately scuffling, Los Angeles Spinners. The Spinners lost 6 straight to end June and have only won 2 of their last 10 games coming into this series. They have a middling offense but very good pitching. Their starting rotation is their greatest strength, with potential HOF'er Jose Santos, 1969 Pitcher of the Year Jason Wilson, and All-Stars Kerry Krieg (leading the MGL in ERA) and Jesse Hartong (2nd in ERA in the MGL), and Captain John Tegel a solid #5.
Brewers head scout Nick Meskill categorizes L.A.'s Avalon Park as being neutral, but to my eyes it looks like it at least somewhat favors pitching over hitting.
In game 1 it certainly looked that way, as the Brewers barely managed to eek out a 3-2 victory. Harry Lyerly struggled with a lack of control, walking 7 batters, but largely worked out of serious trouble, giving up 2 runs on just 2 hits in his 5 innings pitched. He got the win to improve to 6-6 and now has a more respectable 4.16 ERA. Lyerly also doubled in one of the Brewers 3 runs. The bullpen was once again spectacular- both Sam Pruiett and Jordan Stephens working 2 scoreless innings, with Pruiett getting his 2nd hold of the season (2.23 ERA) and Stephens his 6th save (2.72 ERA.) Bobby Erbakan (.317/.383/.500) was 3 for 5 in the game, scoring twice, and picking up his 6th stolen base of the season.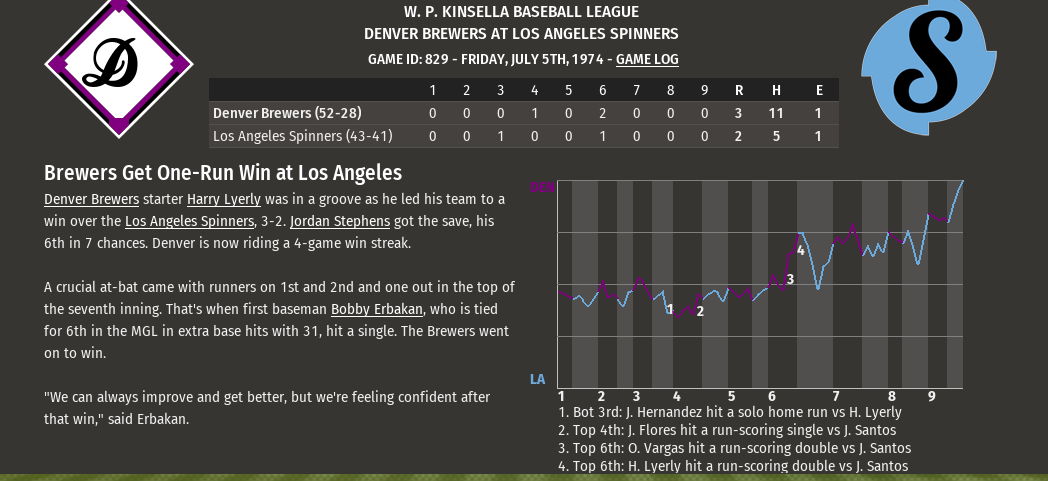 Game 2 was another low scoring affair, with the Spinners prevailing 3-1. Matt Helm didn't have a bad game- giving up 3 runs on 5 hits in 6 1/3rd innings, but took the loss to drop to 7-5 with a 2.84 ERA. The bullpen was excellent again but the offense couldn't get it going, collecting just 3 hits in the game.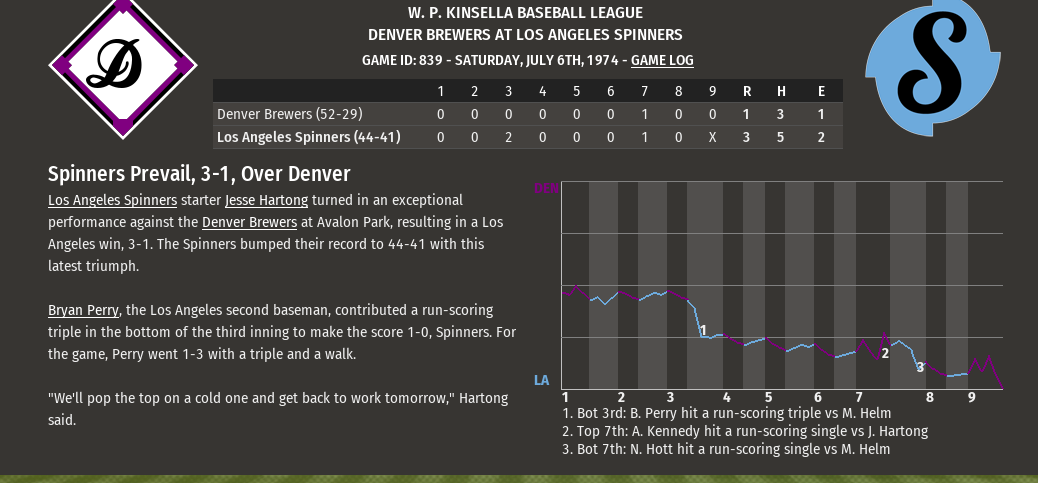 More of the same in the rubber match as the Brewers lose 3-2 when the Spinners score a walk-off run in the 9th to break the 2-2 tie. Erik Sloan pitched a fine game for the visitors, lasting 7 innings, giving up 2 runs (1 earned) on 7 hits. Jaden Francis took the loss in relief, dropping to 2-1 with a 1.08 ERA. Bobby Erbakan (.319/.383/.500) went 2 for 4 in the loss and hit his 19th double of 1974. Josh Schaeffer (.307/.424/.406) also was 2 for 4 in the game.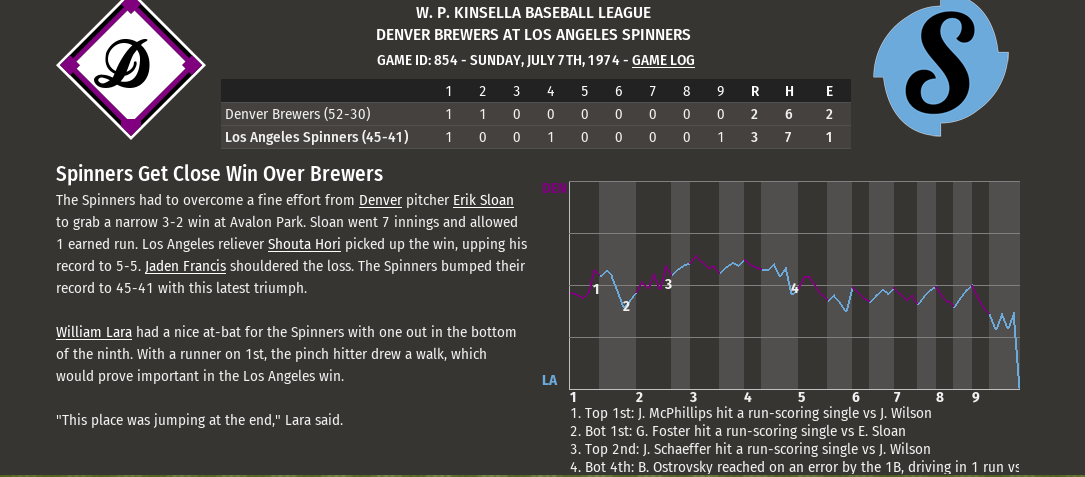 With the Charlotte Sting remaining hot, the Brewers enter the All-Star break with just a 1 1/2 game lead. Brooklyn is also playing well and sits 6 games back in 3rd place, while L.A. is 9 games back in 4th place.